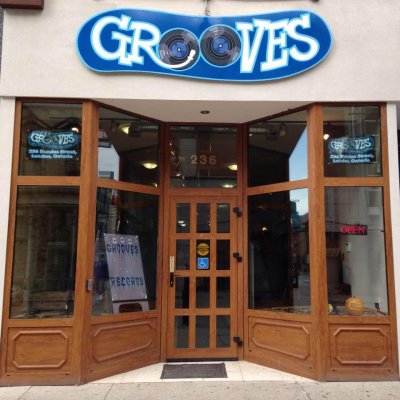 Our location
236 Dundas Street, London, Ontario, Canada
Phone: (519)640-6714
Email: grooves@loveable.com
Grooves Online Shop
Grooves Discogs Store
Store Hours
As of January 2nd, 2022 Grooves is open for extended in-store shopping hours Monday-Wednesday 11am-6pm, Thursday - Saturday 11am-7pm and Sunday 12-5pm.
Current Safety Procedures You can also arrange for curbside pickup or delivery ($6 within city limits) by calling the shop at 519-640-6714 during business hours or email us at grooves@loveable.com. Masks are not mandatory, but appreciated. Please sanitize hands and practice social distancing while diggin'.
Please visit our online shop or discogs page if you get the itch to buy some new tunes!
Grooves Online Shop
Grooves Discogs Store
Grooves Gift Certificates are available in any amount! Our Gift Cards are now available online!
Buy A Grooves Gift Certificate